Baldwin Memorial wants all young people to feel welcome and accepted in our church and to have an opportunity to enjoy positive relationships with other youth and with adults.  We are looking forward to re-establishing our Youth Group program now that COVID-19 is waning.  All youth from 6th grade to 12th grade are invited to attend fellowship meetings and participate in service projects for the church.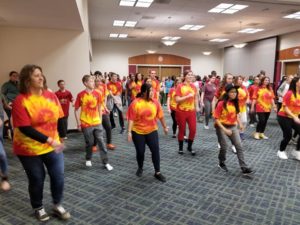 Each year our UMYF group attends the Baltimore-Washington Council United Methodist Church ROCK Youth Retreat in Ocean City Maryland.  ROCK usually takes place in early February.
Regular UMYF Meetings are held in the Fellowship Hall of the Education Building approximately every other Friday from 7-9 PM.  Beyond regular gatherings, we typically help with and participate in these activities:
September  – Pizza & Volleyball Kick Off and Rally Day/Picnic
Halloween – Trick or Treating for Canned Goods*
November – Holiday Bazaar support*
December  – Christmas Caroling*
December – Holiday Party
January – ROCK planning meeting
February – ROCK
* Denotes service events. Youth must participate in two service events to attend ROCK.
Check the church calendar for more particulars. Other scheduled service projects are the sunrise service on Easter morning and breakfast immediately following, and the Strawberry Festival in June.
UMYF Leaders:  Rick Johnson (emeritus) 
All Youth Group Members should provide a registration form with parent contact information.
Baldwin Youth Group Registration Form